Collecting, transforming, producing
ARE OUR PROFESSIONS
Located in the heart of the Drôme, a pilot department for the development of organic farming, MARKAL has been promoting a healthy and balanced diet for over 80 years. Created in 1936, MARKAL processes organic cereals. The company perpetuates a traditional know-how through its production of pre-cooked cereal specialities (including Boulgour). MARKAL also has a wide range of products (more than 800 organic products) that it packages and/or distributes.
MARKAL is part of a voluntary approach of commitments with producers selected for their know-how and seriousness on the basis of signed contracts. This is the guarantee of optimal traceability, which provides the necessary information on the composition of the product and enables its traceability throughout the production chain.
Production
Our manufacturing benefits from 80 years of expertise serving taste, quality and innovation.
The philosophy of the company has remained intact: authenticity, control of the raw material considered as a noble material, transparency and the environment.
Quality
Our quality department consists of specialists who implement and uphold the company policy: to put high quality products on the market.
Trading
With the production, MARKAL has developed the trading activity. It allows our industrial customers to have raw material at their disposal easily. Assessment and loyalty towards the producers that MARKAL maintains every day allow buying and stocking large amounts of raw material. This trading work allows our company to increase the offer by creating new products, ranges and brands.
MARKAL really wants to meet the expectations of its customers, while remaining sensitive to the market requirements for innovation.
Packaging
MARKAL also offers packaging solutions and creation,bagging, labels printing for all types of goods.
Investing new sectors
Create and sustain sectors close to producers
We have always been interested in how the food we eat is produced. The love of the land we owe it to our grandparents and to our parents, it made sense to register in a voluntary process of commitments with producers selected for their expertise and seriousness based on signed contracts.
New sectors, constantly
As the raw material is the first added value of our company's products, we are striving to create new sectors.
Our major sectors:
Durum and soft wheat,
French flours,
Camargue and Italian rices,
Tomato,
Quinoa from Bolivia,
Chestnuts,
Walnut kernels,
Soy and rice (vegetal drinks),
Olive oil from Spain,
The Sri Lanka
MARKAL establishes 95% of its contracts in channels. We select the best ingredients based on the best source
With our sector in Sri Lanka
We work directly with several groups of cooperatives that practice permaculture in the shade of palm trees. Indeed, these are not just coconut farms. There are also fruits such as pineapple, mango, guava, melon and watermelon growing peacefully.
They are small farms of a maximum of 5 HA that work in the old-fashioned way all year round, in a favourable climate. The producers of the fruit are also the ones who process it on the spot. Prepared by hand and placed in containers in the best conditions.
This is also a way of supporting cooperatives that work mainly with women (more than 80%) in order to enable them to be financially independent and thus participate in family life. The coconut is husked by the men, then peeled and cut by the ladies and then everything is used:
the oil when the fruit is pressed is the 1st cold pressing,
Coconut can be cut into pieces, grated or worked into flour,
The water is reused for the boiler and for watering the crops.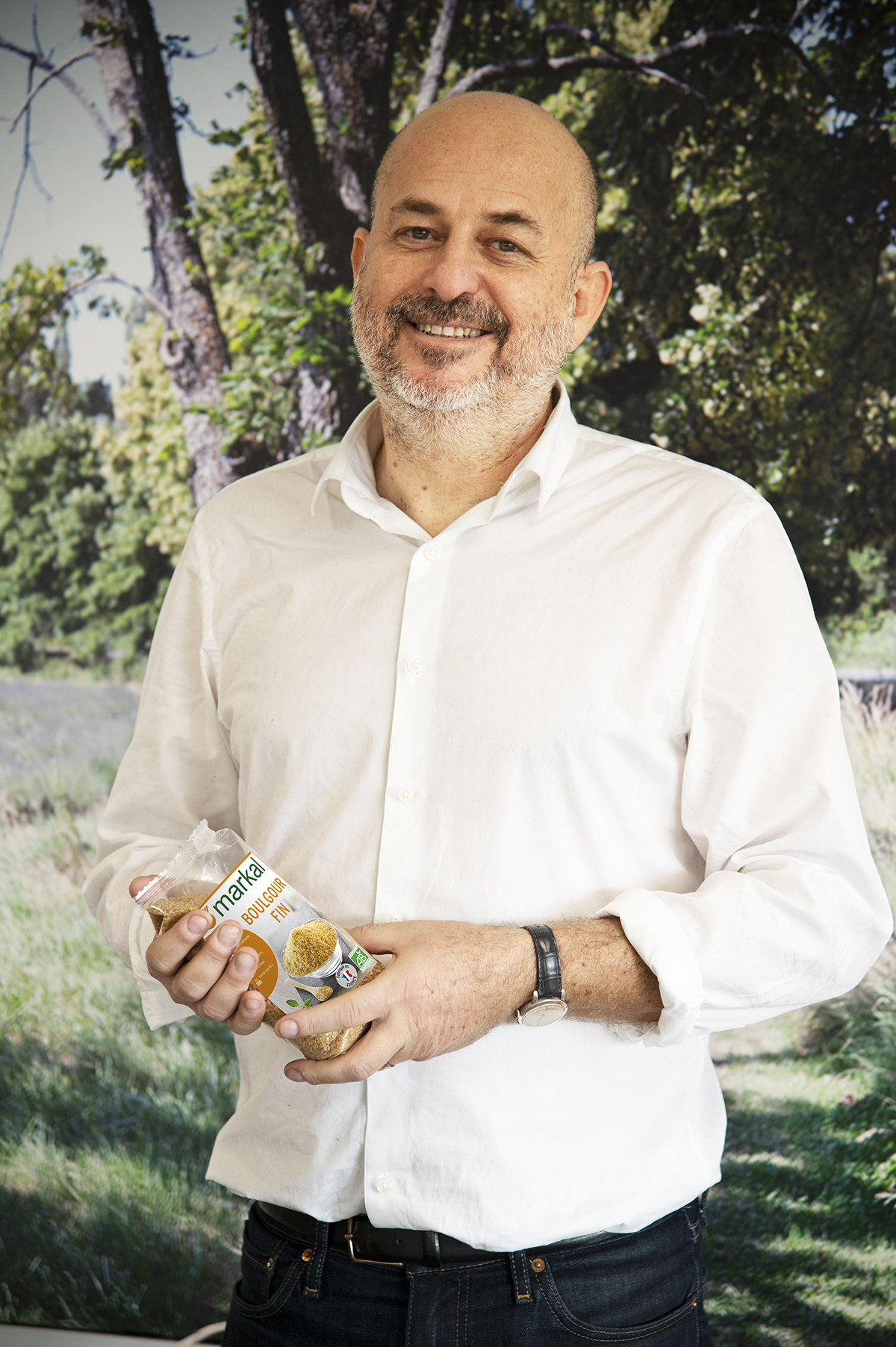 Lionel WOLBERG, CEO MARKAL
A traditional knowledge
MARKAL has several production units perpetuating the family know-how and combining the latest technological processes.
Our brand Luce
Structuring of an industry around the Mediterranean basin with the creation of our brand LUCE.
LUCE was born from a strong choice: to repatriate the cultures of some of our references in European origin.
"Luce" ("Light" in Italian) is the sign of a new way of responsible and sustainable consumption for a quick and colorful cooking.
A privileged relationship
100% organic, healthy and affordable products for everyone and at prices accessible to all, while preserving the culinary richness of the Mediterranean basin.
Nearly 50 products make up the LUCE range. Several families of products make up the body of the range: pasta, legumes, fruit juices, coffee and olive oil.
Our fruit juices come from Sicily or the Mediterranean basin, from sun-drenched fruits, picked and pressed within 24 hours of harvest.
Our olive oil has a distinctive taste. From the Mediterranean basin, it will seduce you and bring joy to your kitchen 365 days a year. 100% of the processing is European.
Reducing the adverse impacts on the environment
"Let us all become committed advocates of organic farming as best we can".
MARKAL contributes to sustainable development through a number of investments and actions:
Installing solar panels,
Financing fo waste water treatment,
100 % of the electricity from new renewable
energy sources,
Recycling bins for packaging,
Reducing consumption of the supplies and so on...
800 product references for smart food
Our goal is to help consumers to make good choices when it comes to their nutrition. MARKAL advocates the humble food, i.e. the food that is not processed or slightly processed (« raw food » products), the mission of food is to help us get back in shape and Smile. For every member of our team this quality food must be accessible to all, with a wide choice and strong brands.
Our assortment offers 800 organic references, with the brands MARKAL, BIOSHOK, APÉRIBIO, APÉRI'TIN, ORÉLINE, KIVINAT, GRAND'OLIO and most recently LUCE.
MARKAL products are regularly recognized for their qualities
MARKAL's credo is to promote a healthy and original family cuisine for all budgets- "econological" pricing policy. In order to reconcile economy with ecology MARKAL limits the number of intermediaries and applies a dynamical commercial policy.
This is the challenge of our employees who every day do their work thinking about the future of the planet
OUR LOGO
The MARKAL logo symbolises a grain of wheat growing to form an ear. This grain of wheat refers to durum wheat, our main raw ingredient to make our bulgur.
As for the name MARKAL, it is a contraction of "MARKarian" (family name of the company's founders) and "ALimentaire".