What is the aromachology ?
Aromachology is a concept that makes it possible to link emotions and smells thanks to the various neuro-psycho-emotional benefits of essential oils. The olfactory sense, the very basis of aromachology, is directly linked to our limbic brain, the crossroads of emotions and memory. These are two closely related elements that strongly influence our emotional balance.
Smell is the only sense that humans possess, being directly connected to the brain thanks to the direct link between the hundreds of olfactory receptors and neurons, which instantly activate our limbic system. Each of our experiences can demonstrate it, a smell can at any time bring back an intact emotional memory (madeleine de Proust in French).
Note: Always give preference to essential oils from 100% organic farming. However, if these oils can have beneficial effects for our health, they can also involve many risks if they are badly chosen (GMOs, pesticides…).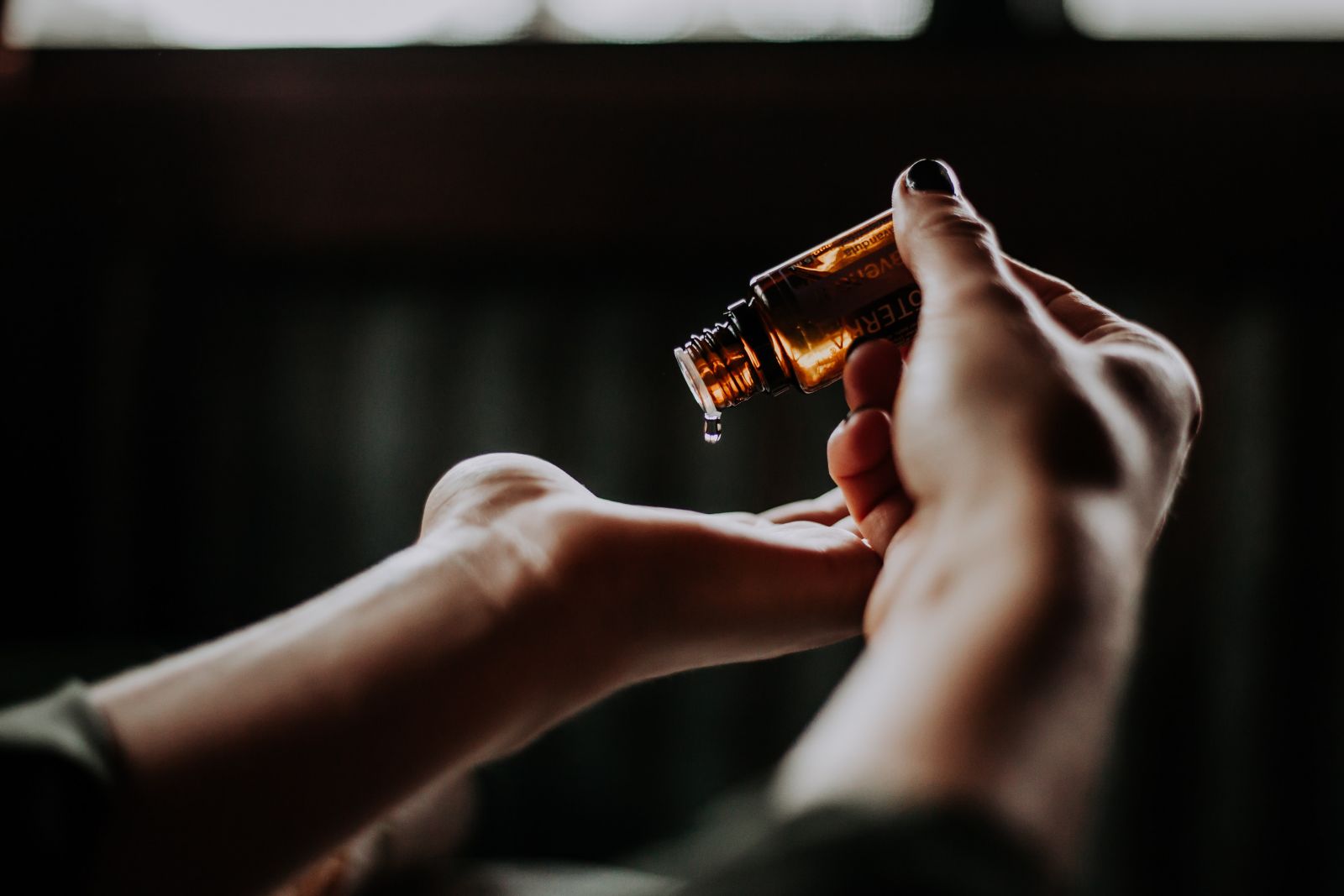 The influence of smells on our psyche and our feelings
The power of organic essential oils and their beneficial virtues come into contact with our emotional and our mind in a completely unconscious manner. The use of this type of method is to positively impact our emotions without the aim of healing.
The sense of smell is the only universal way of communication. The use of essential oils has existed for millennia, especially with herbal medicine. Many fragrances used in the past are still honored today (sage, bay leaf, hyssop, etc.).

How to practice aromachology ?
Aromachology is a practice which can be carried out daily, by yourself or accompanied by a professional (naturopath, aromatherapist, hypnotherapist, etc.). The sessions are generally short, between 5 to 15 minutes, in a quiet place, during which you inhale an organic essential oil or an adequate synergy (oil mixture) while following the cardiac coherence exercise. Several other exercises can be combined with aromachology, to increase its effects: yoga, positive visualization exercise, meditation, relaxation therapy ...
Calm or in motion, aromachology is therefore an individual practice that everyone can practice as they see fit!
Focus on the cardiac coherence technique
Cardiac coherence is a breathing practice, close to that of meditation, with multiple benefits. This approach makes the direct connection between our brain and our heart. The purpose is therefore to tune them at the same rhythm in order to derive full benefit from them. By practicing cardiac coherence regularly (3 times a day for 5 minutes), it generates :
Relaxation
Decreased cardiovascular risk
Decrease in cortisol (stress hormone)
Increased hormones for positive emotions
Restful sleep
Better emotion management
…

How to use essential oils in aromachology?
Understand the olfactory pyramid
When creating your essential oil synergies, follow the traditional structure of any perfume: the olfactory pyramid. For each synergy, we can distinguish 3 olfactory notes which have a different lifespan. The harmony of the mixture should not be neglected, to benefit from all the benefits.
Top notes (the most volatile substances): fresh and light aromatic notes such as those of citrus,
Heart notes (dominant): sweet, round, spicy and floral notes such as ylang-ylang or rose
Base notes (heaviest): woody, sweet notes such as vanilla, patchouli …
To achieve a balanced blend, try to choose at least one essential oil from each category to build a unique scent. Make sure you let your perfume sit for a few hours before use.
Tip : Always add more base and heart notes than top notes.
Olfactory stick
You can find olfactory sticks ready to be personalized in organic stores and on the internet. On a cotton wick, add 5-6 drops of an essential oil or the synergy of essential oils of your choice. Then we "screw" the bit directly into the plastic head to take it everywhere with you.
How to proceed ?
Calm down for a few minutes and take slow, mindful breaths while positioning the scent stick at the entrance to the nostrils.
Examples :
hemlock essential oil (Tsuga canadensis) to keep energy and moral during winter
noble laurel essential oil (Laurus nobilis) before an exam or speaking
fine lavender essential oil (Lavandula angustifolia) to stay zen or fall asleep
Excepted lifetime : The wick should be changed every month.

Room spray
The room spray is to be made in a glass spray bottle. This time, we will use a base to dilute the essential oils: 70-degree modified alcohol or vodka.
How to proceed ?
Fill the bottle ¾ with alcohol, then add 30 drops of essential oils of your choice. Ideally, choose at least 3 essential oils including one essential oil which will be a base note, another as a heart note and finally, one for the top note. Always add more base note than top note, much more present on the nose.
Excepted lifetime : 8 to 10 weeks. Keep the flask away from light and moisture.
Example : room spray "Vanilla Dream"
A room spray to fill up on cocooning, zen or prepare for sleep thanks to the power of scents.
In a 30 ml glass spray bottle:
25 ml of alcohol at 70 ° C
12 drops of bourbon vanilla essence (Vanilla planifolia)
10 drops of essential oil of sweet orange (Citrus sinensis)
6 drops of essential oil of sandalwood (Santalum spicatum)
3 drops of ylang-ylang essential oil (Cananga odorata)

Olfactory Roll on
This time it's for skin use where the diffuser is… your skin! Thanks to an application on certain areas of the body particularly vascularized such as the wrists, you will be able to benefit from the olfactory benefits of essential oils naturally diffused thanks to the body heat.
Nomadic and practical, you can create a roll-on for several everyday situations: stress, sleep, concentration ...
How to proceed ?
In a 5 or 10 ml tinted glass roll-on bottle, pour a vegetable oil base for ¾ of the bottle (jojoba, safflower, sweet almond) in which you will add 15 to 20 drops of essential oil maximum. You can choose just one essential oil, two, three ... depending on your mood and your emotional need.
Excepted lifetime : about 4 to 6 weeks
Example : Olfactory roll-on "strength & energy"
In a 5 ml glass roll-on bottle :
4 ml of jojoba vegetable oil
6 drops of atlas cedar essential oil (Cedrus atlantica)
5 drops of green myrtle essential oil (Myrtus communis)
4 drops of lemon essential oil (Citrus limonum)
2 drops of peppermint essential oil (Mentha piperita)

Contraindications to the use of essential oils
Essential oils are not recommended for pregnant women, breastfeeding women and children under 6 years old. They are also not recommended, except for medical advice, for people with neurological or respiratory disorders.
Before any use on the skin, always carry out a preliminary test on a small area of skin (wrist, elbow folds).
Essential oils are natural but powerful products, always respect the indicated doses. If in doubt, consult a healthcare professional.