At the restaurant or the supermarket, at the canteen or the bakery, ready-made or homemade? For a healthy and tasty lunch in the middle of your working day, discover how to combine greed and balance at the office by making the right choices!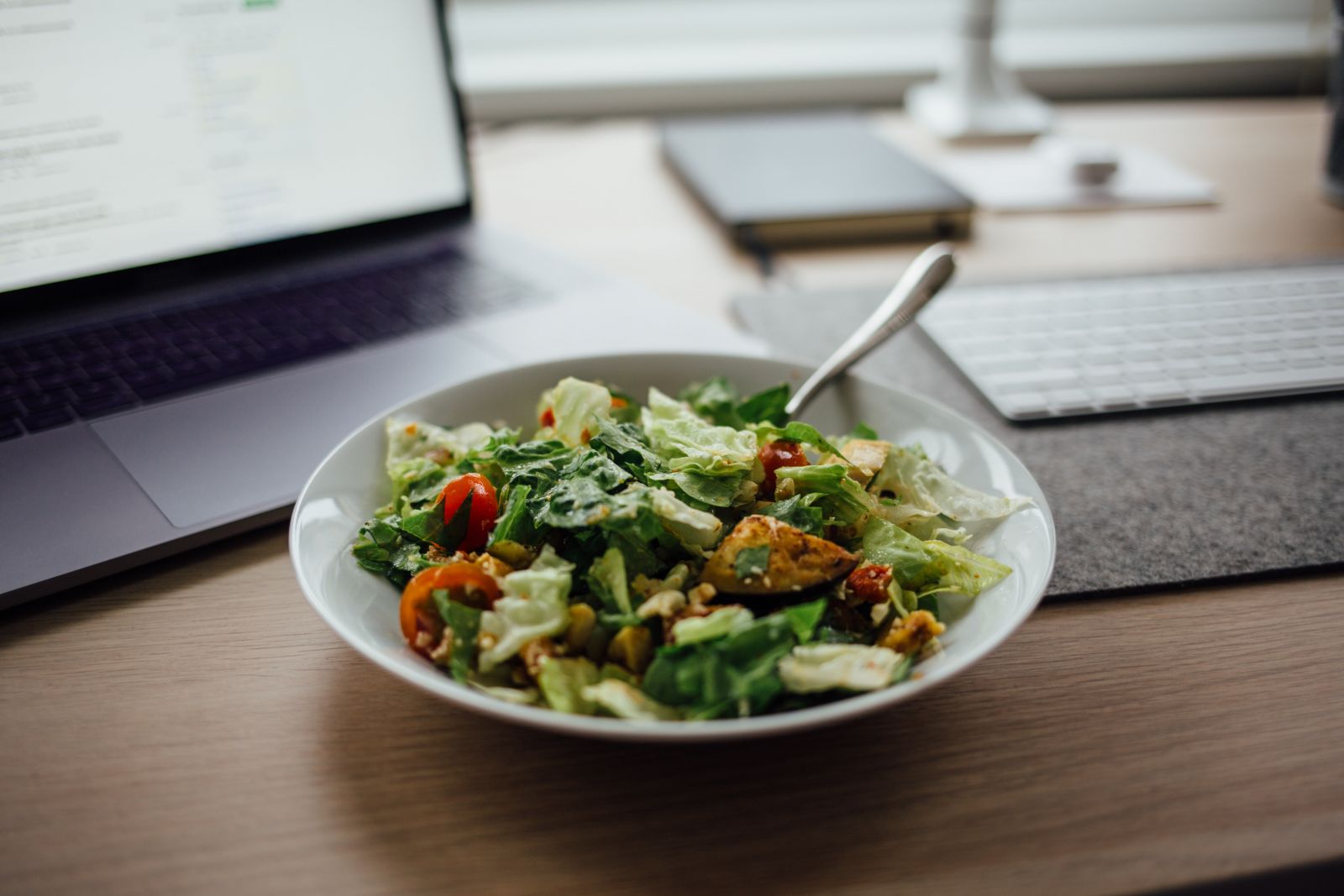 Basic rules for eating well at work
For a healthy lunch at the office, adopt the right reflexes, from the composition of the plate to the way you eat it.
Half of your plate should be composed of vegetables, raw or cooked. Then count a quarter of animal (meat, fish, eggs) or vegetable (legumes) proteins and the last quarter of cereals.
Choose whole grains. White cereals have a glycemic index that causes the blood sugar level to rise and then fall rapidly. The result is fatigue and a desire for sugar shortly after the meal. Conversely, vegetables, legumes and whole grains release their sugar more slowly to provide energy over time.
Keep an eye on the drink. Water is the best option, possibly flavored with lemon, mint, ginger or as an herbal tea. Reserve tea and coffee for after a meal. Avoid alcohol and sugary drinks, which can affect both blood sugar and digestion.
Beware of dessert, which may contain too much sugar and tip the calorie balance of the meal. Ideally, opt for an unsweetened yogurt, a handful of oilseeds, two squares of dark chocolate or fruit.
Avoid as much as possible ultra-processed foods, nutritionally poor but rich in calories and additives. Beware of certain fast-food restaurants and vacuum-packed prepared meals... opt for fresh, organic and raw products.
Take your time. As much as possible, avoid snacking in front of the screen. Spend at least an hour at break time, including 20 to 30 minutes at mealtime. Leave your computer or even the office and once at the table, take the time to choose, chew and savor to combine pleasure, good digestion and satiety.
Prepare homemade lunch boxes and bentos if you have the possibility: you will control the ingredients and the quantities, without additives or preservatives, with a menu entirely adapted to your tastes. No time during the week? Consider batch cooking, which means two hours of cooking on the weekend for a week of menus.
And if we give in?
Don't systematically prohibit yourself your favorite dishes because they are not very well balanced. Instead, reduce the quantities and compensate with a side dish rich in fresh vegetables, for example by choosing a classic burger rather than a double burger, with a small portion of fries and a salad without mayonnaise. Another option is to reduce the frequency by choosing a four-cheese pizza only once a month... But whatever you choose, enjoy your meal!
Eating at work: what to choose in the store?
Whether you eat in, take away or have it delivered, beware of nutritional traps that provide little and satiate even less. Balanced or not, don't force yourself to finish your meal: commercial portions are often generous and always standardized, and not all appetites are the same. Listen to your senses and stop when you are no longer hungry, even if it means taking the leftovers with you.
At the restaurant
Avoid or limit the frequency of dishes with sauce, fried food or red meat.
Choose pan-fried, grilled and steamed dishes, poultry and fish. Sushi is better than beef and cheese skewers, spring rolls than egg rolls!
Ask for the dish of the day, which is usually rich in fresh products and not very processed.
As a general rule, choose vegetables: vegetable lasagna is more balanced than spaghetti carbonara, just as Margarita pizza is healthier than four-cheese.
If you choose a dish without vegetables, add a vegetable side dish.
Don't force yourself to have a trio of appetizers, main course and dessert: a duo of appetizers, main course and dessert is often sufficient.
At the bakery
Limit the frequency of friands, ham croissants and other flaky treats.
For a hot lunch, opt for a sandwich or a slice of pizza, favoring classic or vegetable pizzas.
For a cold meal, classic sandwiches also offer a balanced option, as long as you avoid recipes covered in mayonnaise. If possible, choose whole grain or seeded breads.
At the supermarket
Opt for fresh products; raw vegetables, whole or cut fruits... Don't hesitate to buy what you need to make a complete salad yourself.
If you opt for prepared products, choose organic products and check the list of ingredients: if it is too long or incomprehensible, beware.
Use the Nutri-Score on the packaging or scan the products with an application such as Yuka to choose the best rated products.
Take the time to compare several products or brands.
Eating at work: what to prepare at home?
Making a homemade lunch is still the perfect way to eat healthy and cheaply at the office. If you have access to a microwave, anything is possible. Otherwise, opt for cold recipes or invest in an isothermal lunch box.
To prepare in advance:
Cakes, pies, quiches and pizzas. They can be cut into portions for several days, frozen easily, reheated in the microwave and can even be eaten cold. Many complete dishes can also be reheated in the microwave at the office, such as gratins, lasagne, casseroles, couscous...
To prepare the day before:
Satiating salads with vegetables, proteins and whole grains: rice salad, quinoa salad, pasta salad, etc. Garnish with raw vegetables, chickpeas or lentils, chicken or salmon, etc. Reserve the vinaigrette separately to mix it at the last minute.
To be assembled in the morning:
Homemade sandwiches: ideally in whole wheat bread, but also in tortillas, bagels, rice cakes... Have fun!
The right container
Treat yourself to a suitable container: many lunch boxes, bentos or airtight boxes have separate compartments that help balance portions while varying intake.