What are oleaginous ?
Oleaginous fruits, or dried fruits, are rich in essential fatty acids. Some are used to extract vegetable oil (hazelnuts, walnuts, etc.). Oilseeds are not oleaginous but are also high in fiber and nutrients.
Oleaginous :
Oilseeds :
Oleaginous fruits :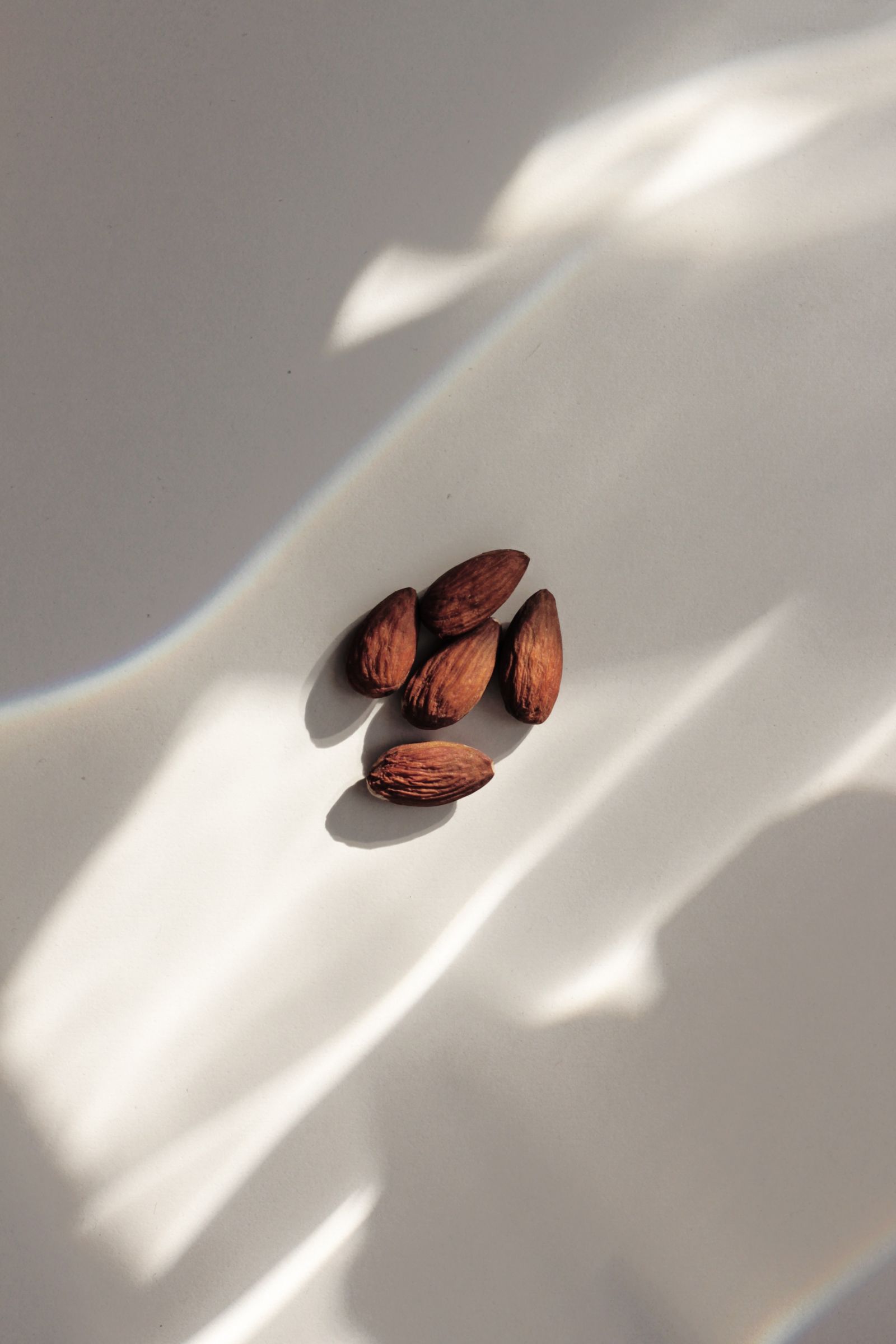 Did you know ?
Peanuts and soybeans are not from the oleaginous family but legumes (lentil, bean …).
Nutritional intakes of oleaginous
Consider varying your consumption for a maximum of contributions: whole, mash, vegetable oils ...

Oilseeds are very rich in polyunsaturated fatty acids as well as micronutrients. They are sources of minerals (magnesium, iron, calcium, potassium, selenium, etc.), fiber, fatty acids (omega-6 and omega-3), plant proteins and liposoluble vitamins (A, B and E).
Some recipe ideas for incorporating oleaginous into your daily diet
2 breakfast recipes
Apple & cinnamon chia pudding
Prepare the night before in a bowl or large shot glass.
For 1 portion :
1 tbsp of chia seeds
1 vegetable or organic sheep yogurt
1 apple cut into pieces or 1 apple compote with no added sugar
Crushed walnut kernels
Cinnamon powder
Vanilla powder
Option: 1 teaspoon of whole sugar or coconut blossom sugar
Mix the chia seeds with the yogurt in the bottom of the bowl. Then layer the apple pieces (or apple sauce) and crushed nuts, season with cinnamon and vanilla powder to taste. Place in the refrigerator overnight and enjoy the next morning with a hot drink.
Energy smoothie
For 1 portion :
1 glass of vegetable drink (rice, almond, spelt, coconut ...)
1 tbsp of oilseed purée (hazelnut, almond, pecan ...)
2 pitted medjool dates
1 teaspoon of spirulina powder
1 handful of spinach leaves / lamb's lettuce / 1 branch of celery
Option: ½ or 1 cut fruit, your choice (banana, persimmon, kiwi, pear, etc.)
Mix everything in a blender at low power to avoid overheating, do not hesitate to add a few ice cubes. Enjoy without waiting !
2 dish recipes
The quick dish : omega-3 toast
For 4 portions :
2 avocados
4 large slices of rye bread
1 clove of garlic
Sweet soy sauce
Gomasio
Colza oil
Pine nuts and / or sesame seeds
OPTION: 4 eggs
OPTION: green salad
Toast the rye bread, then rub the clove of garlic over it. Cut each half an avocado into slices, place half an avocado on each slice of bread. Sprinkle with gomasio, sesame seeds and / or pine nuts. Drizzle with rapeseed oil and sweet soy sauce.
You can garnish this toast with a fried egg or scrambled eggs and / or a green salad. It can also be used as a salty breakfast or a gourmet brunch !

The dish to impress: sautéed salmon noodles, curry-coconut sauce with cashew
For 4 portions

For the sauce:
25 cl of coconut milk
15 cl of vegetable cream (rice, cashew, spelled, etc.)
1 teaspoon of curry powder
60 gr of cashew nuts
1 onion
2 tbsp sesame oil
Salt pepper
For the main course:
300 gr of Chinese noodles
4 salmon steaks
1 lime
2 zucchinis
Fresh coriander
Sesame oil
Bake the salmon steaks in a preheated oven to 170 degrees or steam. Cook the noodles in a pot of boiling water off the heat and covered for 5 minutes. Drain and set aside.
Dice the zucchini and onion, brown them with half the onion in a hot pan with a little sesame oil. At the end of the cooking time, add the noodles and mix well.
At the same time, in a saucepan, brown the remaining half onion in sesame oil. Add the coconut milk, vegetable cream and curry. Season as desired and cook for 10 minutes over low heat. Add the cashews at the end of cooking to preserve their nutritional benefits, whole or crushed.
Arrange bowls with the zucchini / noodle mixture. Crumble a salmon fillet on it. Add the curry-coconut sauce with the cashew nuts and chopped fresh coriander. To twist with a slice of lime for maximum exoticism and freshness!

2 snack recipes
Energy balls
For 12 energy balls :
200 g of dried cranberries
100 g of pitted dates
150 g of almonds
1 tablespoon of almond puree (white or whole)
Options: 2 tbsp of grated white chocolate and / or 2 tsp of spirulina powder
Coarsely blend all the ingredients in a blender.
With a teaspoon, take the dough and roll it between wet hands to form a ball. Place on a platter and do this until all of the dough is gone. Place in the refrigerator for at least 2 hours. Then keep in a box in the refrigerator.
These energy balls are ideal before or after your workout or for the family snack.
Puffed squash seeds
Seeds of one or two squash / pumpkin
Olive oil
Spices of your choice: salt, pepper, paprika, cumin, etc.
Did you know that the seeds of your squash can be cooked for a gourmet aperitif?
Rinse the seeds of one or two squash / pumpkin seeds well with water. Then boil them for about ten minutes in a pot of water. Drain well.
In a hot pan with olive oil, toast the seeds without burning them for about 15 minutes to make them crisp. Season with the spices of your choice: paprika, cumin, fleur de sel, pepper, garlic powder ...
Once they are to your liking, you can consume them immediately or keep them in an airtight box for 7 days to treat your guests or to add a twist to your salads / soups.